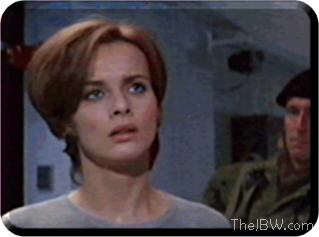 Name:
Simonova, Natalya (Scorupco, Izabella)
Background:
Level 2 programmer as Severyna facility in Russia; friend of Boris, another, more experienced programmer.
What She Did To Help Bond:
Told him who was responsible for the Goldeneye blast; used her computer skills to track them to Cuba; changed the access codes so Goldeneye couldn't be fired.
What Happened To Her:
Bond and she were allowed to "debrief" at Guantanimo.
Comments:
Truly a woman of the 90's, despite the fact that she is Russian. She's more skilled than Bond in at least one field: computing. Emotion would probably come next. She attempts more diligently than any previous girl to break through Bond's shell, and probably comes the closest to success. She is a lovely, real-world woman with a hell of a lot of brains stuck in a very hairy situation, so she screams, yes, but they're nothing like Tracy in View. Watching her near-complex character ride through the film is quite a treat, especially when seeing how she reacts to love, danger, and most importantly, trust. Definitely one of the most gorgeous Bond ladies, despite the fact that she doesn't wear revealing clothing it's really the deep eyes and fiery red, yet cute, hair, that does it. In other words, she gets by without acting like a slut, a trend that will for the most part continue. A dream date for any guy and a dream for any critic concerned with character. If only Bond realized that what "[kept him] alive" also "[kept him] alone."
Beauty Verdict:
3.5/4.0
Overall Verdict:
4.5/4.0